Talk on the Irish Manuscripts in the St. Gall Library, Switzerland
December 17 @ 6:00 pm

-

7:30 pm
We are delighted to host this illustrated talk by Fr. Conor McDonough O.P.
on the Irish manuscripts held at the library of St. Gall.
Founded on the site of the 7th century hermitage of Irish monk St. Gall, the Abbey of St. Gallen was for many centuries
among the most important Benedictine abbeys in Europe; and the Abbey's library continues to house one of the richest medieval collections in the world.
Everyone is welcome to enjoy this glimpse into the world of medieval culture, from the perspective of Ireland's contribution.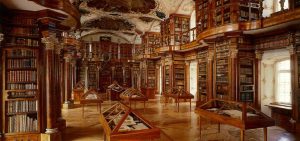 ---